Want to host us at your Event?
Fun4u is committed to creating a joyous and memorable experience for kids and big kids alike in a safe and friendly environment.
We specialize in festivals, fetes, school carnivals and fundraising event, but are also available for corporate events. We take great pride in providing affordable, but most of all safe, exciting and amazing rides for your event.


Please book early to avoid disappointment.
We only operate in the Eastern & Southern Cape of South Africa.
As part of our goal to create a uniting feeling and excitement among members of your community, we have created a concept in which we could assist schools in hosting a memorable event and raise funds.

Schools are always in need of additional funding, and usually host events satisfying this need to a certain extent. But instead of hosting a traditional carnival or fete, why not host an event bringing more excitement and fun to the broader community, whilst also saving you a lot of money and the time of planning such a carnival or fete.

We are available to host our funfair on your school ground. It is such a great concept that we don't want to give it away by explaining it here. Once you have decided to make use of our service, we will arrange a site inspection and establish a suitable date for the event.
With prestigious events such as the Kirkwood Wild Life Festival, Grahamstown National Arts Festival and NMB Splash Festival in our portfolio, you can be assured that Fun4u truly is a first-rate provider of rides for Festivals, Agri-Shows.

We are available to host our funfair at your next event. Contact our office today through the online booking form or give us a call to discuss your event and to arrange a site inspection.
Are you an events coordinator looking for something special that will give you that added spice to your next corporate event?

Fun4u can make your event something to remember, by using our wide range of rides available.

Contact our office today through the online booking form or give us a call to discuss the requirements for your event and to arrange a site inspection.
FAQ's / Important Information
How much space is required for the rides?
We need an 80m x 80m (6400m²) level area. Preferably a grassed surface.

Do you require electricity?
We can provide our own diesel generators for the rides to operate if the venue does not have 200A, 3-Phase power available. We do however require electricity for the living quarters of our staff.

Do you require a water connection?
Yes, only to fill the water tanks for the living quarters of our staff.

How do you get the rides on-site?
We have our own heavy load trucks and trailers. Most of the rides are trailer mounted. The grounds where the rides will be hosted must be accessible by 22m long vehicles.

How long does it take to assemble all the rides?
If all goes according to plan, we require an average of 2 days to complete the setup, inspection and testing of all the rides, but we prefer 3 days. Construction time may vary due to inclement weather conditions.

How long does it take to dismantle all the rides?
It takes about 10 hours to disassemble all the equipment if there are no hold ups. Take-down time may vary due to inclement weather conditions.

When will you start occupying the grounds?
Assuming the event is held from Friday to Saturday, we prefer to move onto the grounds on a Sunday afternoon when vehicle traffic is at a low, but not later than the Tuesday prior to the event. With the rides and our trucks visible to the public eye, it causes anticipation and curiosity as to what will take place at the grounds. We find that, this already makes for good advertising.

Will your trucks damage the grassed surface of the grounds?
Most of the sites that we have occupied was not damaged at all. During construction times we keep truck movement to the minimum.

Where do your staff stay?
We have high quality custom built trailer homes that houses all our staff on-site. These trailer homes are fully equipped with complete kitchens, bedrooms, bathrooms and toilet facilities.

Do you have Public Liability Cover?
Yes, we do. We are required by law to have coverage.

Do you have Safety Certificates for your rides?
Yes, we do. All the rides are inspected on a regular basis by a qualified independent engineer who certifies the rides after each inspection.
Please complete this booking enquiry request and we will get back to you as soon as possible.
How do we protect the information you supply in this form:
To comply with the POPI Act, your personal information is processed on secured networks and is only accessible by a limited number of persons who have special access rights to such systems, and are required to keep the information confidential. We will not share your information with third parties unless you provide written permission to refer your enquiry.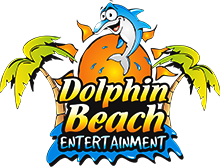 Dolphin Beach Entertainment

One of our companies, is a waterpark located at Jeffreys Bay's Main Beach. Thousands of holiday makers and tourists and the locals flock to this park to ride the thrilling Supertube and play a round of mini-golf on the colourful and exciting 18-hole course.

Visit our Website

Using this site means you accept its
terms
| Copyright © 2023 Fun4U, Jeffreys Bay, South Africa
| website by