Ride Safety
Regarding safety, Children and Families are our business.

Whilst we take great care that we do everything in our power to ensure that all our guests have a fun and memorable experience at our events, the safety of our guests is the most important aspect of our work.
Design
All our rides have been designed and constructed to the best of our ability for your safety and enjoyment. Safety is our highest priority, and we meet or exceed all safety guidelines set forth by state agencies, industry organizations, as well as our ride manufacturers. We are a travelling amusement park, therefore our rides have been designed and constructed by engineers to be assembled and disassembled on a weekly basis at different locations.

Guest Responsibility
There are inherent risks in the participation of any ride, device or attraction. Guests, by participation, accept the risks inherent in such participation of which the ordinary prudent person is aware. Guests have a duty to exercise good judgement and act in a responsible manner while using the ride, device or attraction and to obey all oral and written warnings, or both, prior to or during participation, or both. Guests have a duty to not participate in or on any ride, device or attraction when under the influence of drugs or alcohol. Guests have a duty to properly use all ride or device safety equipment provided

Weekly Ride Safety Procedures
After our rides are assembled by our trained staff, every ride is inspected by the owner to make sure the assembly is according to manufacturer's requirements. Each ride has a comprehensive checklist that is electronically documented. A pre-run stationary visual inspection of the ride is performed followed by an operational test.

Ongoing Maintenance Program
Each ride is maintained in an ongoing maintenance schedule. Whenever something is damaged or out of order it gets replaced or repaired immediately.

Key-Activated Start Buttons
All our rides are equipped with Key-activated start buttons to eliminate unauthorized operation.
Signage
Each ride has a posted safety warning sign at the entrance, which may be different for each attraction. Ride restrictions do apply. Persons not following ride rules are subject to removal from the park.

Workplace
Fun4u is committed to providing a safe and healthy place to work and recreate. Good management of health and safety is critical to achieving our vision of being a leader in amusement operation. We are committed to developing a culture that strives for continuous improvement in health and safety, and ultimately, an injury-free workplace.

Pre-open Testing
Prior to opening each day, every ride is inspected by our trained staff and put through a rigorous 'pre-open test'. This includes a stationary visual inspection of the ride followed by an operational test of the ride.

Inspection and Certification
All our rides and maintenance logbooks are inspected on a yearly basis by a qualified independent Structural and Mechanical Engineer. A Safety Certificate is issued yearly according to legislation and is valid for 12 calendar months.

Emergency-Stop Buttons
All our rides are equipped with emergency stop buttons.

Passenger Restraints
All our rides have the necessary passenger restraints as designed by the ride manufacturers and as required by law. Our staff always make sure that these restraints are properly closed and not forced before a ride can start.
Make Your Next Event Amazing
Fun, Adventure, Excitement and Laughter. Fun4u will bring your event alive with amazing equipment. Enquire online to secure Fun4u for your next event. Please book early to avoid disappointment.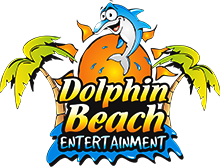 Dolphin Beach Entertainment

One of our companies, is a waterpark located at Jeffreys Bay's Main Beach. Thousands of holiday makers and tourists and the locals flock to this park to ride the thrilling Supertube and play a round of mini-golf on the colourful and exciting 18-hole course.

Visit our Website

Using this site means you accept its
terms
| Copyright © 2023 Fun4U, Jeffreys Bay, South Africa
| website by