Fairground Rules
We strive to provide you with a safe and enjoyable experience. Please be aware of these park rules during your visit. Thank you for help keeping our park safe.
Right of Admission Reserved
Management reserves the right to refuse admission to those they feel are unsuitable for the fairground's facilities.

Operating Hours
The fair operating hours are subject to the hours of the hosting event. Normally it is from 9am (or 8am) till 10pm. For safety reasons, some or all rides may be unavailable during strong winds or rainy weather conditions. Rides may also close temporarily during thunderstorms.

Cameras
Personal cameras are not permitted on rides unless it is securely attached to the body. No selfie-sticks of any kind is permitted on any ride.

Ride Safety and Requirements
Safety is our highest priority, and we meet or exceed all safety guidelines set forth by state agencies, industry organizations, as well as our ride manufacturers. Each ride has a posted safety warning sign at the entrance, which may be different for each attraction. Ride restrictions do apply. Please read all signs and listen to all operator's instructions before riding. Persons not following ride rules are subject to removal from the fairground.

Unaccompanied Minors
We recommend that children under the age of 13years be accompanied by a parent or guardian older than 14years of age.

Refund Policy
Tickets are not exchangeable and non-refundable. Some rides and activities may close without prior notice due to inclement weather conditions or safety and mechanical reasons.

Food and Beverage Policy
No food or drinks are allowed on any ride.

Guest Responsibility
There are inherent risks in the participation of any ride, device or attraction. Guests, by participation, accept the risks inherent in such participation of which the ordinary prudent person is aware. Guests have a duty to exercise good judgement and act in a responsible manner while using the ride, device or attraction and to obey all oral and written warnings, or both, prior to or during participation, or both. Guests have a duty to not participate in or on any ride, device or attraction when under the influence of drugs or alcohol. Guests have a duty to properly use all ride or device safety equipment provided.
Own Risk
All rides and activities are used at the guest's own risk. Fun4u accepts no responsibility for personal injury. Please be careful!

Behaviour
Please no running or horse playing in the fairgrounds. Aggressive or abusive behaviour and profanity are not permitted.

Security Cameras
Security cameras are in use. By entering the fairgrounds, each guest grants Fun4u the right to videotape or photograph him/her without payment or consideration.

Alcohol
Alcohol is not permitted in the fairground and management reserves the right to confiscate it and ask the persons to leave who are under the influence of it.

Picnicking/Camping
For safety reasons, the area between rides must always be kept open. No person or group will be allowed to picnic or camp in the fairground.

Lost/Stolen Items
Fun4u is not responsible for lost, stolen, or damaged articles. Please make sure that you secure or remove any loose articles before riding. Please do not hand your valuables to ride operators for safe keeping.

Accessibility
Fun4u is committed to providing a comfortable and memorable experience for all our guests. We do our best to accommodate persons with physical disabilities if they feel capable of participating. Guests with physical disabilities need to arrange for assistance at the ticket office. The site manager/owner will gladly assist your where possible.

Security Procedures
For the safety of all guests, any bags, backpacks, and packages may be subject to inspection according to management's discretion. As a reminder, the following items are not permitted to be brought into the park for the safety of our guests: weapons, glass bottles, and any hazardous items or materials.
Make Your Next Event Amazing
Fun, Adventure, Excitement and Laughter. Fun4u will bring your event alive with amazing equipment. Enquire online to secure Fun4u for your next event. Please book early to avoid disappointment.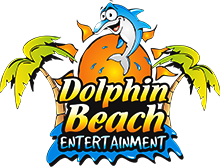 Dolphin Beach Entertainment

One of our companies, is a waterpark located at Jeffreys Bay's Main Beach. Thousands of holiday makers and tourists and the locals flock to this park to ride the thrilling Supertube and play a round of mini-golf on the colourful and exciting 18-hole course.

Visit our Website

Using this site means you accept its
terms
| Copyright © 2023 Fun4U, Jeffreys Bay, South Africa
| website by